As Trump's chaotic year ends, things look worse than ever
Posted by Josh Taylor / December 23, 2018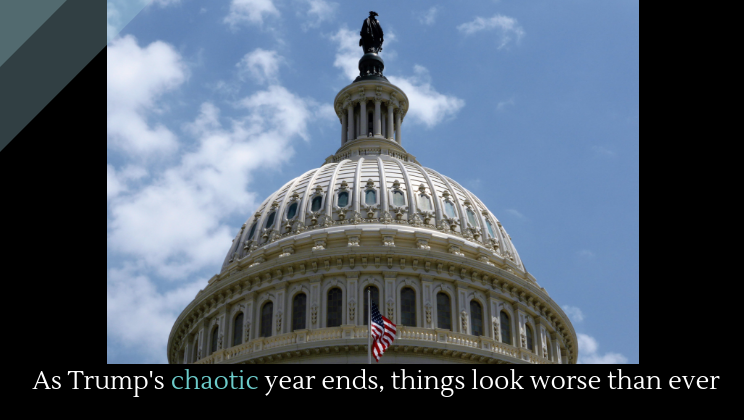 Last week was the rotten cherry on top of a very bad year for President Donald Trump:
January: Government shutdown and Trump utters the famous "shithole countries" line.
February: The Stormy Daniels saga begins when Michael Cohen says he paid her hush money out of his own pocket.
March: Rex Tillerson is fired and Trump starts a trade war.
April: Trump denies porn star payoff and FBI raids Cohen's office and hotel.
May: Trump pulls out of Iran deal.
June: Trump reverses family separation at border.
July: Trump publicly denies that Russia interfered with 2016 elections. (Holy moly.)
August: Cohen flips on Trump, Manafort convicted.
September: A Trump insider turns on the administration in a NYT opinion piece.
October: Not a bad month for Trump!
November: Cohen pleads guilty, Jeff Sessions ousted.
Now that Jim Mattis has left, the cracks in the GOP-Presidential alliance's facade are beginning to show. Two years in, it seems that Trump is increasingly isolated and at war with his own government:
For two years, Mr. Trump has waged war against his own government, convinced that people around him are fools. Angry that they resist his wishes, uninterested in the details of their briefings, he becomes especially agitated when they tell him he does not have the power to do what he wants, which makes him suspicious that they are secretly undermining him.
The Atlantic suggests that serving in the government is an either-or proposition: you're either for Trump or for America, but not both. People are scared; two tourists in D.C. say "Washington just seems to be in chaos. What is going on? What is happening? A lot of people resigning from office," she said. "It doesn't give you a sense of comfort." With the government shut down through Christmas, things are only getting worse.
More politics.