Trump offers deal to Democrats, Democrats call it "nonstarter"
Posted by Josh Taylor / January 20, 2019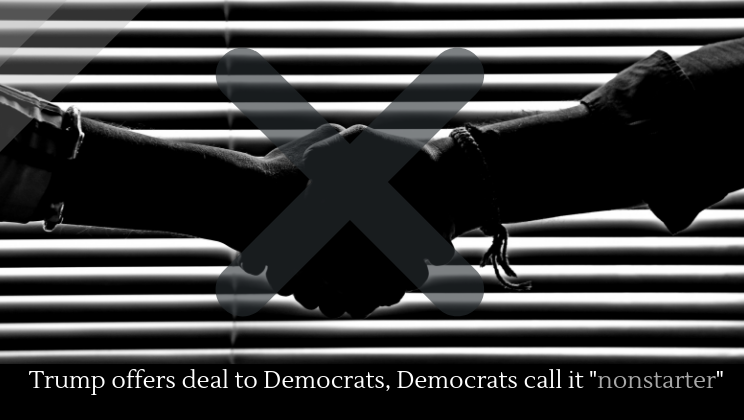 Game theorists suggest that we may be in it for the long haul with this government shutdown. We recently shared that both Democrats and Republicans were making moves to end the shutdown. Trump promised a big announcement on Saturday, January 19. Many hoped that this announcement would do something to end the shutdown. But the game theorists seem to be right––we're in it for the long haul.
Here's what happened. Trump made an offer to end the shutdown. NPR summarizes Trump's deal:
The proposal had multiple components, including requests for:

$800 million for urgent humanitarian assistance;
$805 million for drug-detection technology to secure ports of entry;
2,750 additional border agents;
75 new immigration judge teams for a court backlog of nearly 900,000 cases;
Allowing Central American minors to apply for asylum in their home countries;
$5.7 billion for strategic deployment of physical barriers or a wall, but not, Trump said, a 2,000-mile concrete structure. The president said he wants to add 230 miles this year and claimed the crime rate and drug problem "would be quickly and greatly reduced" and that "some say it would be cut in half."

Three years of legislative relief for some 700,000 recipients of the Obama-era initiative known as Deferred Action for Childhood Arrivals, or DACA, which protects some immigrants brought to the U.S. illegally as children from deportation. The Trump administration had moved to end DACA, but the decision was challenged in court and is currently held up in legal proceedings. Trump's proposal would give an extension of legal status;
A three-year extension of Temporary Protected Status for some 300,000 facing expiration.
The New York Times explains that, for Democrats, the deal was a "nonstarter:"
But he reiterated his demand for $5.7 billion in funding for a border barrier, and Speaker Nancy Pelosi said ahead of his remarks that she considered his proposal a "nonstarter," in part because it offered no permanent pathway to citizenship for Dreamers.
More news.