Violence against people in MAGA hats is not OK
Posted by Jimmy Cooper / March 2, 2019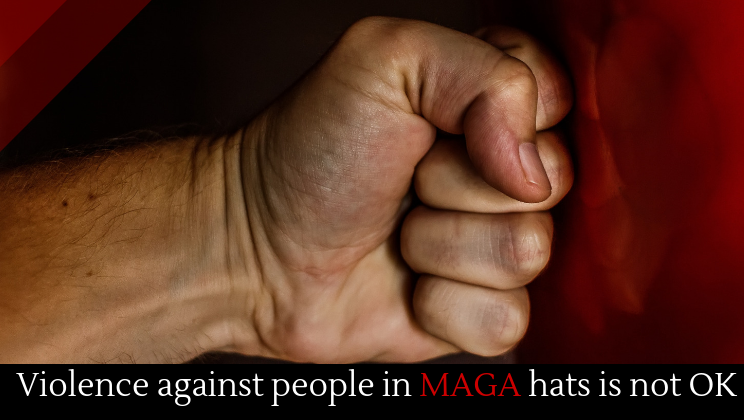 President Donald Trump and his supporters––whom Hillary Clinton famously, and much to her detriment called a "basket of deplorables"––have often been accused of racism, homophobia, and worst of all, hate-inspired violence. But there has been a disturbing Trend in this, the third year of his presidency: people find it increasingly acceptable to harm physically people wearing MAGA (Make America Great Again, Trump's campaign slogan) hats.
It began more subtly––by ruining the lives of some high school boys wearing MAGA hats. The incident began when a viral video appeared to show (as this Reddit post reads): "Guy with a MAGA hat mocking a elder Native American protestor." Later, fuller videos came out that showed the boys simply stood their ground when approached by the Native American man. Further background revealed that the boys seem to have been in the wrong place at the wrong time, and the incident was exacerbated by the fact that they're immature teenage boys.
But two incidents have made national news. In one, a New Jersey teen knocked over an elderly man wearing a MAGA hat. In another, a Brazilian woman accosted a man wearing a MAGA hat. The teen faces charges, and the woman faces deportation.
The Miami Herald makes the controversial argument that anti-Trump violence is not reported on with nearly as much intensity as fake Smolletthate crimes, including the "attack." Like it or not, the Herald makes a point.
More news.